---
Features
Training - Expense or Investment?
Canadian Contractor Trains Their Novices The FOA Way
Aerial Cable Plants "Hall of Shame"
Disaster Planning And Recovery
How Many Telecom Techs Do We Really Need?
How Big Is The Fiber Optic Market

Links To Resources On Broadband
Newsletter Sections
Click on any link to jump to that section
News
Calix Created Online Training For Service Providers
FOA CFOS/D Design Curriculum In Spanish
Are Communications Satellites Harming The Atmosphere And Ozone Layer?
Google FIber Letter To Broadband Leaders
AT&T Fiber Price List
Cleveland To Build Open Source Network
CFOT Course In Spanish

Illegal To Sell Counterfeit Cables Online
Scouts Send Morse Code Over Fiber
POF Conference Comes To Ireland
Technical
New Product Month
FTTH Drop Cables
Learning From A Cable Scrap
Problems with Old and New Cables
Managing Projects - Gantt Charts
FOA Color Code Guides

FOA Online Loss Budget Calculator


Worth Reading
Lots of interesting articles
Q&A Questions from our readers

Always Interesting!



Training/FiberU

Types Of Work Done By Fiber Techs
FOA-Approved School News
Fiber U MiniCourses



Resources

New FOA Technical Resources


Safety
About the FOA
---



FOA Certified Techs

:


Special offer - 1/3 Off Renewal
---
Jobs
See FOA Jobs Web Page and FOA on

The FOA Jobs Web Page has been updated and a new page added on Using your FOA Training/Certification to Find the Right Job in Fiber Optics
Where Are The Jobs In Fiber Optics? FOA talks about all the applications for fiber optics, what jobs involve and the qualifications for the workers in the field in this YouTube video.
---
Join The FOA eMail Newsletter List
Want to be notified when the FOA Newsletter is updated? Sign up for the FOA eMail Newsletter. You can also sign up from your cell phone: text "FOA" to 22828 (usual text message charges apply)

---
Trademarks: The FOA CFOT® (Certified Fiber Optic Technician) and Fiber U® (the FOA online learning site) are registered trademarks of the FOA.
---
Want to know more about fiber optics?
Looking for specific information? Here's the largest technical reference on the web: The FOA Online Fiber Optic Reference Guide.
---
Free

online self-study programs on many fiber optics and cabling topics are available at Fiber U, FOA's online web-based training website.
---
FOA Reference Books
Available Printed or eBooks
The fiber book is available in Spanish and French
Lennie and Uncle Ted's Guides are now also available as free iBooks on iTunes.
Click on any of the books to learn more.
Fiber Optic Safety Poster to download and print



---
FOA Videos on
---
FOA is a member of:


---
The FOA Newsletter is edited by Jim Hayes - send your stories, leads, ideas, comments to <jim @ foa.org>
---
Search the FOA Website With DuckDuckGo
Top Stories From The Past FOA Newsletters
The Archives: Past Issues.




Use these links to read past issues or use

FOA's Custom Search to look for specific topics on our website.
1/23, 2/23, 3/23, 4/23, 5/23, 6/23, 7/23, 8/23, 9/23, 10/23, 11/23,
1/22, 2/22, 3/22, 4/22, 5/22, 6/22, 7/22, 8/22, 9/22, 10/22, 11/22, 12/22

1/21, 2/21. 3/21, 4/21, 5/21, 6/21, 7/21, 8/21, 9/21, 10/21, 11-12/21,

1/20, 2/20, 3/20. 4/20, 5/20, 6/20, 7/20, 8/20, 9/20, 10/20, 11/20, 12/20,
1/19, 2/19, 3/19, 4/19, 5/19, 6/19, 7/19, 8/19, 9/19, 10/19, 11/19, 12/19
1/18, 2/18, 3/18, 4/18, 5/18, 6/18, 7/18, 8/18, 9/18, 10/18, 12/18.
1/17, 2/17, 3/17, 4/17, 5/17, 6/17, 7/17, 8/17, 9/17, 10/17, 11/17, 12/17
1/16, 2/16, 3/16, 4/16, 5/16, 6/16, 7-8/16, 9/16, 10/16, 11/16, 12/16
1/15, 2/15, 3/15, 4/15, 5/15, 6/15, 7/15, 8/15, 9/15 , 10/15, 11/15 , 12/15
1/14, 2/14, 3/14, 4/14, 5/14, 6/14, 7/14, 8/14, 9/14, 10/14, 11/14, 12/14
1/13, 2/13, 3/13, 4/13, 5/13, 6/13, 7/13, 8/13, 9/13, 10/13, 11/13, 12/13
1/12 , 2/12, 3/12, 4/12, 6/12, 7/12, 8/12, 9/12, 10/12, 11/12, 12/12
1/11 , 2/11, 3/11, 4/11, 6/11, 7/11, 8/11, 9/11, 10/11, 11/11, 12/11,
1/10 , 2/10, 3/10, 4/10, 05/10, 07/10, 08/10, 09/10, 10/10, 11/10
1/09 , 2/09, 3/09, 04/09, 05/09, 07/09, 08/09, 09/09, 10/09, 11/09, 12/09
1/08 , 2/08, 3/08, 4/08, 5/08, 6/08, 7/08, 8/08, 09/08, 10/08, 11/08, 12/08
12/07 , 11/07, 10/07, 09/07, 08/07, 07/07, 06/07, 05/07, 04/07, 03/07, 2/07, 1/07
12/06 , 11/06, 10/06, 09/06, 8/06, 7/06, 6/06, 5/06, 4/06, 3/06, 2/06, 1/06,
12/05 ,11/05, 10/05, 09/05, 08/05, 07/05, 6/05, 5/05, 4/05, 2/05, 01/05,
12/04 , 10/04, 9/04, 8/04, 7/04, 6/04, 5/04, 4/04, 3/04, 1/04,
12/03 , 11/03 10/03 9/03, 8/03, 7/03, 6/03, 3/03, 10/02 , 8/02, 5/02
Current Issue of FOA Newsletter
---
New Fiber U Self Study Programs
Fiber Characterization (for long distance, high speed networks)
Minicourses: Attenuators, Reference Cables, Project Management Fiber Optic Jargon

December 2022 Special Feature: A Salute To FOA's Schools And Training Organizations


---


Time To Renew Your FOA Certifications?
To keep your FOA certifications active, you need to renew them when they expire. Now we have a new more convenient way to renew - an online store at Paypal - where you can quickly and conveniently use your PayPal account or your credit card to renew your certifications.
---
Join FOA On Social Media

FOA has 3 LinkedIn Groups

FOA - official page on LinkedIn - covers FOA, technology and jobs in the fiber optic marketplace

FOA Fiber Optic Training - open to all, covers fiber optic technology and training topics

Grupo de La Asociación de Fibra Óptica FOA (Español)


---
Training - Expense or Investment?
The arguments against training usually center on cost. We hear: "Training is expensive and after getting trained and certified workers often leave my company for jobs paying more money" or "I can't afford the time off the job - we're too busy now." When the economy slows, training is the first cost to be cut.

The reason is understandable - cost is cost and sometimes cutting cost is the primary focus of a business. But what gets forgotten is the idea of "cost/benefit" or "cost/benefit ratio." The cost is easy to understand; the benefit requires a bit more consideration. Better trained workers are more efficient, producing better work in less time, making the company more productive and that usually means more profitable.

Well-trained techs also do better work because they are proud of their accomplishments and take pride in their work. FOA has documented the poor installation work we see overhead, like we're doing this month. Trained techs don't leave work like that hanging overhead where everybody can see the quality of the work. The workers should not be the only ones blamed for such poor quality work - their bosses deserve some of the blame as does the customer who accepted that job.

Want proof that training is an investment? Read on:

---
Canadian Contractor Trains Their Novices The FOA Way
Calvin Hoeg, Byron Klefenz and Jacob Lang of VistaCare Communications, in Bedford, Nova Scotia, Canada.
VistaCare Communications owners Byron Klefenz and Sean Reyno had a need to hire more people for the jobs they had. The problem is there weren't a lot of skilled workers available. To solve this problem, they hired Jane Bailey, CFOS/I, of FOTC, an experienced FOA certified instructor and master splicer with 24 years of field experience to join them and train new techs.

VistaCare and Jane developed a paid training program that encompasses formal training and OJT. One week is devoted to the FOA CFOT curriculum, then they are sent into the field for orientation and beginning OJT.

"The first training group was exciting to watch and mentor," said Jane Bailey. The first project was a fiber run of 64km with 29 splice points including midspans. They spliced, terminated racks did both OLTS and OTDR testing. They found a splice point at 41.62km that required a redo and an open fiber at 56.7km. After testing from both ends they pinpointed the locations and fixed the problems.

The fellas built and spliced it and made a great show of getting the job completed and creating an aesthetically pleasing network. As their instructor and manager, Jane Bailey was impressed by the awesome job done by her team.

FOTC.ca is an FOA approved school operating under VistaCare Communications in Bedford, Nova Scotia, Canada.
---
Think about that while you look at some of the workmanship seen in these jobs below.

---
Aerial Cable Plants "Hall of Shame"
The problem (?) with aerial cable plants is the workmanship is out in the open where everyone can see it, which makes one wonder what installers are thinking when they create such terrible messes overhead. Here are some recent photos from just this month.

This example of lashing aerial cable (or not) was spotted in Kirkwood, MA by FOA instructor Milt Murry)




The two examples of creative mounting of splice closures were spotted in the Atlanta, Georgia area by FOA founder and instructor Eric Pearson




These two below are from Hollywood, CA (JH photos) Don't you like the use of the fence to hold service loops?




And one near LA Chinatown - it's not even connected, just hanging there.


Question: Does any permitting authority require identification labels on aerial cables so the owner and/or installer can be identified?
And sometimes what you see below the cable son the ground is awful also. ( from Bill Graham, FOA founder, retired, in the Toronto area)

Would a trained, certified fiber optic tech leave installations like these visible for all to see?
---
Disaster Planning And Recovery
FOA has been documenting the issues with communications networks caused by natural disasters, something that has been in the news a lot recently. The graph below from Next Century Cities shows why.

This graph comes from a new publication from Next Century Cities (NCC) called Wildfires, Natural Disasters, and Network Resilience that discusses disaster preparedness.

"States and localities are not the only ones that should take proactive planning measures to ensure new and existing telecommunications and broadband networks are resilient. Providers and other network operators should upgrade equipment or ensure that proper backups are in place to mitigate future outages before a disaster strikes a community."

NCC has 3 major suggestions:

1. Providers Should Replace Aging or Outdated Network Infrastructure.
2. Collaborating with State and Local Governments Helps Providers Address Regional Nuances.
3. Federal lawmakers and the Federal Communications Commission should promote information sharing and develop benchmarks for resilience planning.

But the notion that private service providers cooperate with government is naive. That relationship has been contentious forever; private companies spend millions on lobbying to prevent government regulation like regulating the Internet as a common carrier, network neutrality or providing proper coverage in underserved areas (hence the $43.5 billion BEAD program.)
Furthermore, planning has to start considering the effects of a changing climate. We are seeing disasters that are being called "once in a century" events every year or two. Not only is California suffering from unprecedented numbers of wildfires (Canada and Europe also) but California has been the scene of disastrous flooding last year and more predicted for the coming year. Remember when all anyone worried about in California was earthquakes?

The nature of the disasters can also be different. NY Transit Authority, a FOA approved training organization, said that Hurricane Sandy flooded facilities with salt water which has corrosive properties that were never considered and some of the infrastructure is unsalvagable. Coastal cities need to worry about that as more storms coupled with rising seas flood these cities with salt water.

Consider this headline and photo below from the Washington Post: Otis dissipates after cutting communication to Acapulco as Category 5 hurricane



What kind of communication network has been planned to survive a Category 5 hurricane, flooding, muddlides or intense wildfires? What communications service provider will invest in building a network that can survive such a disaster?


---


Also worth reading: Wildfires, Natural Disasters & Network Resilience by Next Century Cities



---
We received this invitation recently to a short webinar on disaster management focusing on communications - planning, responding and recovering.
Disaster Management Symposium
IWCE's Urgent Communications and American City & County will host the Disaster Management Symposium, a virtual forum November 8 from 10 a.m. to 1 p.m. PT. Join them for three sessions focused on how to plan, respond, and recover from a disaster according to industry experts.

More information and registration.




---
How Many Telecom Techs Do We Really Need?

In the newsletter this month from BBC (Broadband Communities) a industry spokesperson was quoted as saying. " the country will need 205,000 fiber-optic technicians to meet the demand created by the BEAD program."

205,000? That's a lot! How did they come up with that number.

Let's look at this logically. The BEAD program is for $43.5billion, It covers about 10 million unserved or underserved households which will be mostly FTTH, built out over 5 or more years. That's about 2 million homes per year.

According to reports on the FTTH market, the current workers did
8 million FTTH connections last year, but in addition they built hundreds of data centers, thousands of miles of backbone (hundreds of thousands?), and thousands of other fiber optic jobs for security, electrical grid, transportation, etc.


Now we have the DoL Bureau of Labor Statistics documenting the telecom workforce, they say we have 300,000 telecom techs, of which 15,000 are wireless tower techs and 112,000 are fiber installation techs. The rest are equipment techs or operational personnel.
So somebody thinks we need 205,000 fiber techs just to connect another 2 million homes a year on fiber? Let's see - 2 million homes installed by 205,000 more techs is about 10 homes each…. per year...?

Did they add a zero to the end of that number by mistake?


Here's what FOA said last month:

There is no question we need more fiber techs but it's not because of BEAD. Like all trades, the workforce is aging and older workers retiring outnumber new recruits. Some surveys have shown that recruits to some trades are only about 20% as many as are needed to replace those leaving.

Read the rest of the article in the
October 2023 FOA Newsletter
.
---
How Big Is The Fiber Optic Market?
The fiber optic market in the US has been wildly excited about the BEAD program, $43.5 billion for broadband in unserved and underserved areas. As we have analyzed before (FOA Newsletter July 2023), this funding will be spent connecting something more than 10 million users over at least 5 years. That's a about $4 billion per year.


In last month's FOA Newsletter we analyzed the current FTTH market. If the FBA's numbers are correct, the 8 million new FTTH connections last year created a market of about $8 billion in a year. That's about what the BEAD program will cost per year once it gets going, but it will represent only about 1/4 as many connections due to its focus on under- and unserved areas like rural, small towns and unserved cities.


Now $8 billion is a lot of money, but how much of the fiber optic market does it represent? Other than a few very large public projects like the California Middle Mile project that will cost more than $3 billion over a few years, it's impossible to tally up the value of all the thousands of projects in the US, not to mention the rest of the world.


There are other ways to estimate markets. For example, in the last month we've received several emails from market research companies offering reports on the worldwide fiber optic cable market. These reports quoting estimates that fiber optic cable is a $5-12 billion/year market worldwide raise the question of where those numbers come from and how reliable they are.


But that's just fiber and cable. What about other hardware and tools? Fusion splicers and OTDRs are expensive tools with many manufacturers. How do we include construction costs with fiber optics? Ducts, poles, cabinets, splice closures, communications equipment, etc. that are used in enormous volumes. The biggest cost in construction might be labor - how do we include that? And of course how do we factor in the regional cost differences?

You just make an educated guess. For projects we can get data about, we estimate the fiber optic cable represents ~5-10% of the cost of a project. That would make the worldwide network market somewhere between $50 and $240 billion per year. That's just the cable plant - no communications equipment attached to it - which would probably more than double that number.


To put this in perspective, the annual expenditures deploying wireless worldwide is estimated to be $85 billion to $95 billion. If you like overviews of that market the Deloitte 2023 Telecom Industry Outlook is very interesting reading. And capital expenditures (CAPEX) for major US service providers is around $60 billion per year (Fierce Telecom) which includes


So the ~$8 billion in BEAD money per year is a lot of money but represents a small part of the overall fiber optic marketplace.




---
Latest FOA Book: Fiber Broadband Is A Hit With Broadband Planners

How does broadband work? Without fiber optics it would not work; even wireless has a fiber backbone. This book is not the typical FOA technical textbook - it is written for anyone who wants to understand fiber broadband or fiber optics or the Internet. It's also aimed at STEM teachers who want to include communications technology in their classes. This book will try to explain not only how fiber broadband works, but how it was developed. It is intended to be an introduction to communications technology appropriate for a communications course at almost any level (junior high, high school or college,) for managers involved with broadband projects, or for anyone who just wonders how all this stuff works.

The Fiber Optic Association Guide To Fiber Broadband Paperback ($12.95) and Kindle ($9.95) versions available from Amazon or most booksellers. Kindle version is in color!



---
Cross Reference Guide to Textbooks, Online Guide and Fiber U
FOA Videos Guide.
---
FOA has a web page with resources on fiber broadband and the IIJA/BEAD funding programs.
---
FOA Newsletter Sections

News
Technical
Worth Reading
Q&A
Training/FiberU
Resoures
Safety
About
News
Lots more news in Worth Reading below
Calix Creates Online Training For Service Providers
FOA has always been focused on the cable plant and its design, installation and operation, but the equipment that communicates over that cable plant is also very important. Calix is one of the major providers of broadband communications equipment and they understand the importance of training also. They have created the online "Calix Broadband Academy" to educate broadband service providers about the five stages of building a successful broadband business. The five stages include the three FOA focuses on, design, installation and operation, but adds two critical areas faced by a broadband ISP running a business, funding the operation and marketing to the customers.



Calix has created a Broadband Academy eBook that covers the same material in a format that ie easy to share among others in the agencies working on developing a broadband program. And they hold the ConneXions conference annually and more virtually for service providers.

At the Calix ConneXions 2023 conference this fall, FOA provided copies of the FOA book on Fiber Broadband to hand out to attendees at a "Train The Trainer" session where broadband leaders learned how they can deliver meaningful and fun broadband education to their communities.




At the Calix ConneXion Confrence, attendees were given copies of the new FOA Guide To Fiber Broadband

At this session Calix announced FOA's Fiber U as their "Install and Repair" curriculum of choice for Calix customers

More on Calix Broadband Academy , the next virtual ConneXions conference Nov 7-9, 2023 and Calix Connections 2024 conference.


---
FOA Curriculum For Schools Adds Fiber Optic Network Design in Spanish
FOA is an international organization so we have expanded our website, textbooks and training curriculum to other languages, with Spanish being the most popular. We have recently translated the curriculum for CFOS/D Fiber Optic Network Design into Spanish for our schools in Spain and the Latin and South American countries. We also have schools teaching in Spanish in the US as you can read below.


The FOA Design textbook is available in Spanish also.

The FOA CFOS/D curriculum in Spanish includes the necessary materials for an instructor to present the course in Spanish and give the cfoS/D certification exam in Spanish. The material is available to any FOA-approved school. For more infirmation on becoming a FOA approved school, go here.


---
Quote Of The Month:
(last month actually, but this is worth repeating)
Speaking at the Goldman Sachs Communacopia + Technology Conference today, AT&T's CEO John Stankey said, "There's a fallacy to say there's fixed networks and wireless networks. There are only fiber networks with different access technologies on the end of them. That's where this is all going."

---
Are Communications Satellites Harming The Atmosphere And Ozone Layer?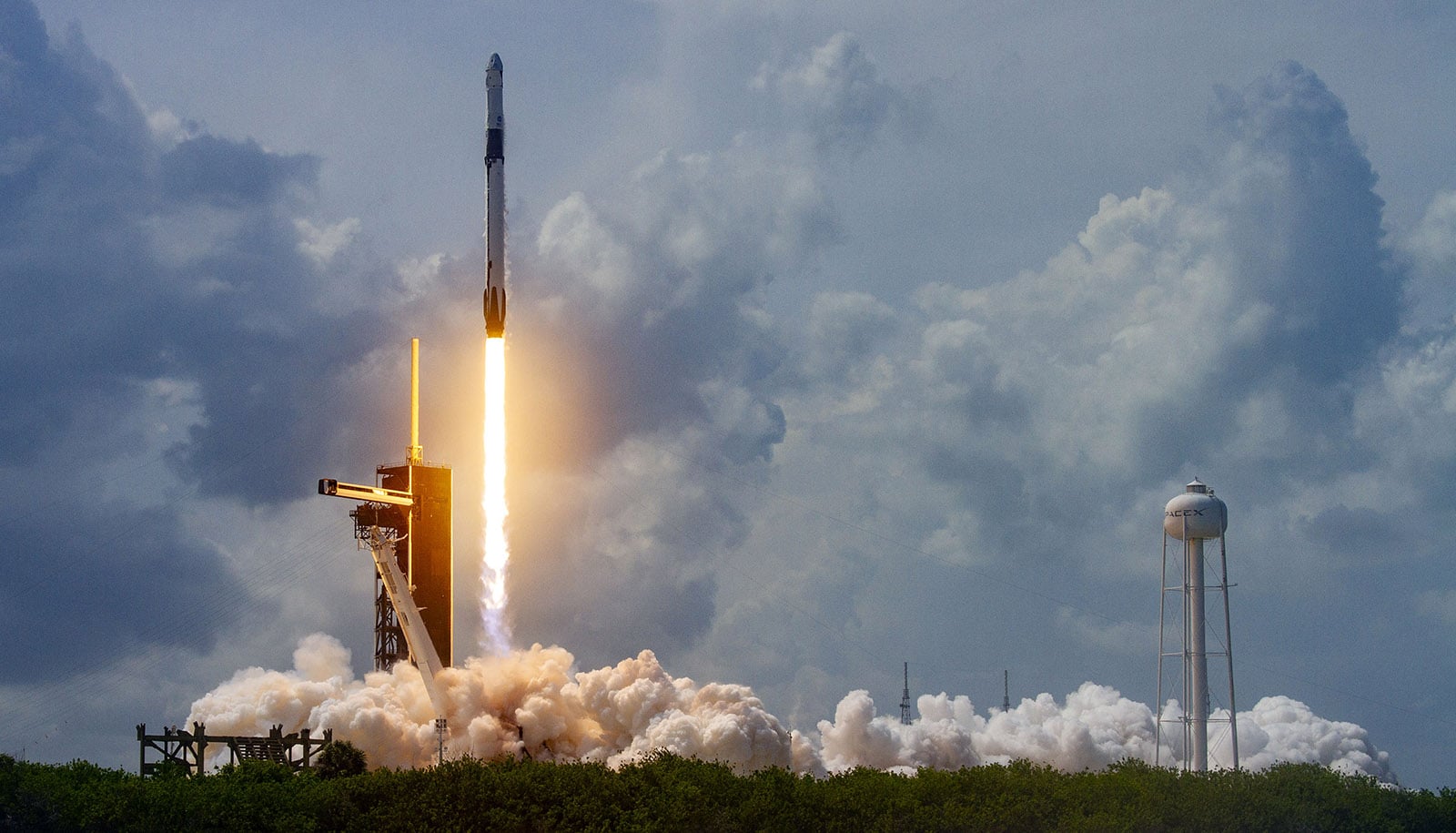 Space-X Falcon 9 Rocket Launch (Space-X from Futurity)

We'ver had several articles in the FOA Newsletter before about the massive numbers of low earth orbit (LEO) satelites being launched to create a worldwide network for communications. We've also covered how tens of thousands of these satellites are disrupting ground based astronomy, but now research being done by NASA and Purdue University is questioning the environmental impact of so many rocket launches and thousands of satellites burning up in the atmosphere on reentry.




NASA RB-57 used in the high altitude research program (NASA)

Rockets leave behind them a trail of pollution including metals that may change the atmosphere in ways scientists don't yet understand. Scientists have long suspected that spacecraft and satellites were changing the upper atmosphere, but studying the stratosphere, where even the highest flights enter only briefly, is challenging.

Using tools hitched to the nose cone of their research aircraft and sampling more than 11 miles (17.7 km) above the planet's surface, researchers have discovered significant amounts of metals in aerosols in the atmosphere, likely from increasingly frequent launches and returns of spacecraft and satellites. That mass of metal is changing atmospheric chemistry in ways that may affect Earth's atmosphere and ozone layer.

"We are finding this human-made material in what we consider a pristine area of the atmosphere," says Dan Cziczo, one of a team of scientists who published a study on these results in the Proceedings of the National Academy of Sciences. "And if something is changing in the stratosphere—this stable region of the atmosphere—that deserves a closer look." Cziczo is professor and head of the department of earth, atmospheric, and planetary sciences at Purdue University.

"Just to get things into orbit, you need all this fuel and a huge body to support the payload," Cziczo says. "There are so many rockets going up and coming back and so many satellites falling back through the atmosphere that it's starting to show up in the stratosphere as these aerosol particles."

The stratosphere is also the realm of the ozone layer: that gaseous marvel that acts as a global tent to shield the planet and all life on it from the searing, scorching rays of ultraviolet radiation. Without the ozone layer, life would likely never have arisen on Earth. And without it, life is unlikely to be able to continue.

Scientists estimate that as many as 50,000 more satellites may reach orbit by 2030. The team calculates that means that, in the next few decades, up to half of stratospheric sulfuric acid particles would contain metals from reentry. What effect that could have on the atmosphere, the ozone layer and life on Earth is yet to be understood.

Will environmental concerns affect the deployment of LEO satellites, favoring the geostationary satellites like VIASAT and Hughes?

Read more at Futurity.


---
Google Fiber's Open Letter to State Broadband Leaders on Planning for BEAD and Future Deployment Efforts
Google Fiber has written an open letter to broadband leaders about their recommendations for planning the deployment of broadband networks. It's interesting reading, If you have followed the history of Google Fiber, you can recognize points they make that are lessons they learned, often the hard way. You can read the letter on the website of the Benton Institute for Broadband & Society. We summarize the points they make here.

The following six recommendations answer a straightforward question: What can state broadband leaders do right now to remove barriers for broadband deployment? We hope you will find these suggestions helpful as you continue to expand broadband access across your state.

1. Work with State 811 One Call Center to Address Locates Constraints
2. Streamline Permitting: Create Standardized Resources for Cities and Counties to Simplify the Permitting Process
3. Promote Broadband Choice and Competition for Multifamily Property Residents
4. Assign a Designated State Official to Liaise with Cities on Broadband Build-Out
5. Create and Promote a State and Local Government "Broadband Innovation Resource List" to Keep Cities and Counties Up to Date on the Latest Technological Developments
6. Set up a State-County-City Task Force that Meets Regularly to Share Information and Troubleshoot Issues

Final Thoughts
To close the digital divide, we need close partnership among state broadband leaders, local governments, and broadband deployers. With historic investment in broadband deployment, partnerships will help meet immediate connectivity and affordability needs. But our goals are aligned – bring connectivity to as many households as possible, and as quickly as possible.

What's Next For Google Fiber? Interesting reading from the Google Fiber blog.


---
Straight From the FOA Email Inbox (Without Comment)
AT&T Dedicated Internet with a customer managed router- Monthly costs-
10MBX10MB- $448.24
20MBX20MB- $491.84
50MBX50MB- $580.91
100MBX100MB- $786.00
150MBX150MB- $808.00
250X250MB - $989.60
400X400MB- $1127.80
500X500MB-$1184.50
600X600MB- $1312.20
1GBX1GB- $1540.60


---
Cleveland, the "Worst Connected City," To Build Own City-Wide Open Access Fiber Network
Do-it-yourself open access fiber networks continue to gain acceptance.

Cleveland, Ohio, USA is putting the finishing touches on an ambitious plan to build a citywide open access fiber network–and deliver affordable fixed wireless service–at minimal cost to city residents. The double-edged proposal aims to bring both meaningful broadband competition–and lower rates–to the long neglected city of 1.7 million people.

Last month, the city announced it had awarded $20 million in ARPA (American Rescue Plan Act) funds to Cleveland-based digital equity non-profit DigitalC. Under the proposal, DigitalC will spend 18 months building a fixed wireless broadband network capable of providing locals with symmetrical 100 Megabit per second (Mbps) service for $18 a month.

In addition to the partnership with DigitalC, Cleveland city leaders passed an ordinance in late September to encourage investment from a private New Jersey-based telecom provider, SiFi Networks. As part of this arrangement, SiFi will spend 7 years building a $500 million citywide open access fiber network at no cost to taxpayers, paid off by leasing access to the network to other ISPs.

Read more at ILSR.


---
UPDATE: FOA CFOT Course For The Spanish-Speaking Community in Raleigh, NC
Wake Tech Community College in Raleigh, NC offered a special FOA CFOT course recently for the local Spanish-speaking community. The course was taught by their instructor, Gilberto Guitarte who is from Argentina, using the FOA CFOT course curriculum which is available in Spanish. The highlight of the course (beyond the fact that all students passed with flying colors) was that student Yamilet from Cuba was expecting baby Isabela probably during the course.. Partner Oscar (also a student originally from Cuba) is standing by her side holding hands in the picture.

Yamulet and Oscar are now parents as well as trained fiber techs. Baby Isabella was born while the parents were still in training (as fiber techs!) Training as parents will take decades!




Gilberto tells us he wonders if Yamulet's excellent score on the CFOT test was due to some help from baby Isabella!


---
It's Finally Illegal To Sell Counterfeit Cables (And Anything Else) Online

FOA has been reporting about counterfeit cable, mostly "Cat 5" UTP, since 2011* we first showed photos we took of fake Cat 5 made with copper-clad aluminum wires instead of solid copper wires. We've taken photos of the counterfeit cable and even did a video showing how it could not meet UL specs due to the way it burned. Eventually UL responded (the counterfeiters learned to make fake UL holographic labels) as did some cabling organizations, but that has not stopped the sale of these products online.

Finally the US Federal Trade Commission has a law to use to prosecute these online fakes. Congress passed the Integrity, Notification, and Fairness in Online Retail Marketplaces for Consumers Act – or the INFORM Consumers Act – effective as of June 27, 2023. The Federal Trade Commission and the States have authority to enforce the new statute and online marketplaces that run afoul of the law could be subject to steep financial penalties. Violations could result in civil penalties of $50,120 per violation for online marketplaces.

Read more on the FTC website.

* Contractors Discovers Why "Cat 5E" Cable Has Problems - It's Not Copper!, FOA Newsletter, March 2011.


---
Infrastructure Resources Is Now "Excavation Safety Alliance" - Join Now

Infrastructure Resources has changed its name to Excavation Safety Alliance (ESA) to better reflect their role in the industry. ESA believes that a focus on safe excavation education initiatives helps prevent damage to buried facilities. Focusing on safe excavation spotlights the importance of safety for the people doing the digging, and helping keep people safe is the top priority of both damage prevention and safe excavation efforts.





Join The Excavation Safety Alliance


The are now over 1,500 individual members of the Excavation Safety Alliance. The individual memberships are FREE because we want everyone to have a voice and the ability to get the valuable education. Individual membership is free; corporate membership is $2000.. For more information, go here.



ESA sponsors the annual Global Excavation Safety Conference which will be held in New Orleans in 2024.




Global Excavation Safety Conference will be held in the city of New Orleans, Louisiana, from March 19-21, 2024. This is an opportunity for damage prevention & excavation safety professionals from all over the world to come together and learn, network, and share their knowledge and expertise in this vitally important field.

More info on Global ESC 2024

---
Technical
Fiber optic technology, standards, equipment, installation, etc.
The FOA Update Page
covers the new technology and applications we covered in this newsletter recently. Now you can review all that new tech at once.



Cross Reference To FOA Technical Reference Materials

The FOA has almost 1,000 pages of technical information on the FOA Guide, 100+ videos and two dozen online courses at Fiber U, all this can make it difficult to find the right information.


Cross Reference To FOA Tech Materials
To help this, we have created a cross reference guide to the textbooks, Online Guide and Fiber U courses, all the FOA technical information. Besides the textbooks, online Guide and Fiber U, each section of the Guide also includes links to the 100+ FOA videos available.
Cross Reference Guide to Textbooks, Online Guide and Fiber U

FOA Videos
We have also rearranged the 100+ FOA videos in similar categories on the Contents Page of the Online Guide, making the videos, especially the lectures, much it much easier to find a video on a particular topic.
FOA Videos Guide.






Want to know more about fiber optics?
Study for FOA certifications?
Free Self-Study Programs are on
Fiber U®
OptConn is a value-add re-seller of optical connectivity products, services and solutions. With over 30 years of experience in the fiber optics industry we are here to serve your requirements from fiber optic training with FOA certification to products, materials and supplies.
We have partnerships with industry leading manufacturers to support your installation, splicing and testing needs. Our goal is to guide, support and recognized our client's requirements.

---
New Products
---
New Fiber Splicer Kit Prepares Two Fibers At Once

The new AFL Fujikura 45S splicer has a very useful new feature. It includes a new fiber stripper that can strip 2 250 micron buffered fibers at once and an adapter plate that allows cleaving two fibers at once. The two fibers, with one in each hand, can even be placed in the splicer clamps simultaneously. That should prove to be a real time-saver for the splicing tech.


---
250 > 200 > 180 > 160 Microns - Fiber Buffer Diameter Keeps Shrinking
In the race to make smaller cables with more fibers, STL has introduced cables with fibers coated at 160 microns diameter. STL claims that this fiber size allows 3 times as many fibers in a cable as 250 micron fiber. The fiber is G.657 since reducing the buffer diameter so much means the fiber needs to be bend insensitive fibers. First use of the fiber will be in the company's home, India. Reported in Lightwave.


---
Klein Improves J-Hook Design


Improve the J-hook? Klein has done just that. The Klein J-Hook is a unique 2-Piece latchable system that fully encloses cables. It has a lockable latch easily opens to add or remove cables. Rounded edges are designed to avoid damage to cable jackets. It has a 2-Point screw hole mounting for permanent, secure mounting (screws included) and a screw key slot for removable mounting.




---
---
VFL Demonstrates Fiber Scattering And Provides Hypnotic Entertainment


Courtesy of Eric Pearson, Pearson Technologies (Eric is FOA School #101, the first FOA approved training organization!)


---
Innovative Connector Cleaning Dust Cap
It's a common joke in fiber optics - the plastic covers over the ends of connectors are called dust caps because they can be a major source of dust contamination on connector ferrules. These plastic covers are molded in the millions and dumped into giant bins with no thought of keeping them clean, so they often contain dust and mold release fluid. When they are slipped over the end of a connector ferrule, even a clean one, they may leave dust and contamination on the ferrule. So the smart installer cleans ever connector, even a new one.

But Clearfield, the supplier of many types of fiber hardware and an FOA Approved training organization, has come up with a unique solution, a dust cap with built in cleaner.




Clearfield says their ClearPass Dust Cap is more effective than other field cleaning systems including cassette and card cleaners. At this time it's available for all 2.5mm ferrule connectors.

Read the Clearfield data sheet here. Watch the video here.


---
Insider Info

From a reliable source within the industry: Within a couple of years, the old inflexible hard ribbon cables will be extinct. Everything will be flexible ribbons and mostly 200 micron fibers and BI (bend insensitive) fibers (G.657). Besides changing how these cables are handled, one thing will be lost - the ability to print ID info on the ribbons so matching fibers to splice will be more difficult.


---
Drop Cables For Customer Premises FTTH Installation
The last optical segment of the FTTH cable plant is the drop segment. The drop optical cable is located between the optical access point and ONT. The optical access point is usually an optical splitter in the optical distribution box. At this point, the drop cable must be connected to the distribution network with fusion/mechanical splice or optical connectors. On the other side, near customers, there is ONT, which requires only an optical connector.

In this tutorial on drop cables, Vladimir Grozdanovic continues his tutorials on FTTH cabling with a comprehensive article on FTTH drop cables and how they are installed.

Vladimir Grozdanovic is a graduate electrical engineer for telecommunications with more than 10 years of experience in access networks (HFC and FTTH) in large cable operators in Serbia (SBB and Jotel).

Read the article here.



---
Learning Important Information From A Found Cable Scrap

While walking down the street near the FOA office, we found this cable laying in the gutter. What a find! A short length of Corning Rocket Ribbon 864 fiber cable left over from an installation by a contractor.




We brought the cable back to our office with the intention of opening it up and creating a video about the construction of this modern high fiber count cable, but something got our attention first. The cable had a very long line of printing on it with lots of interesting and useful information. So before we started deconstructing it, we decided to photograph the printed information and interpret it. That turned out to be an important part of the information we learned from the cable. Then, as you will see below, we dissected the cable and learned even more.

Red more about what this cable marking tells you and what the cable looks like when you open it up to prepare for splicing.

---
Problems With Old Cables And New High Fiber Count Cables?
A FOA CFOT reported that they have been doing fiber characterization testing on cable plants that include both old and new fibers, a common result from building out from a legacy cable plant. One surprising result was that some relatively short links are showing CD and PMD problems even when only short segments of the cable plant are older fibers. PMD has become an issue as speeds increase but earlier fibers we not optimized to prevent PMD. This is just another reason to do fiber characterization before trying to upgrade network speeds. (There is more information on Fiber Characterization in the FOA Guide and a fiber characterization course on Fiber U.


We're also hearing rumors that the new high fiber cables are getting fibers broken during installation with the possible cause(s) being exceeding bend radius or pulling tension, using improper installation equipment or maybe even the cable designs. We're investigating this and will report back in the near future. But please ensure installers follow manufacturer's recommendations carefully. Check out the information on cable specs in the article in this issue and the article on Bending Diameter in the FOA Guide.




---
Managing Fiber Optic Projects - The Gantt Chart

(With An Excel File To Make Your Own)

The most common way to track projects is the Gantt Chart, a chart of activities that tracks the progress of projects along a timeline. each activity is represented by a bar and the position and length of the bar represents the starting date and duration of the activity. This allows you to see what activities are needed for the project, when the activities start and end so it can be used to track the progress of the project visually. Here is what a Gantt Chart for a fiber project might look like:



You might remember an article in the FOA Newsletter in April 2022 or the FOA Guide page on Project Management about the timing of a fiber optic project where we showed the progression of steps in a project like this:


The Gantt Chart above is simply this list converted to a Gantt Chart using a Microsoft Excel spreadsheet. You can download a copy of the FOA Gantt Chart spreadsheet (xlsx file - 16kB) and use it to create your own Gantt Chart for any project. All you have to do is to input your own data and change the activity names as necessary. You can also follow the directions from Microsoft to create your own version.

---
More Help On Color Codes (Including Copper Cabling And Fiber Optics)
The FOA has created a print-your-own pocket guide to fiber optic color codes. It has color codes for fibers and buffer tubes, connectors and premises cables inside and on the back, QR codes to take you directly to the FOA Guide and Fiber U. The FOA Guide page on Fiber Optic Color Codes is one of the most read pages on the FOA website and the Fiber Optic Color Codes minicourse on Fiber U very popular also.



Here's a do-it-yourself FOA Guide To Fiber Optic Color Codes card. Just download the PDF file, print it on a color printer and fold it up as shown. Then you have your own pocket guide to color codes. Make a bunch for your co-workers too.


Then we realized that many of your also do structured cabling work, so it was a natural to add a Color Code Guide for UTP copper cabling in printable (below) and electronic (above) versions.

But we did not stop there. We know how many of you use your mobile devices on the job, so we created a version of the Color Code Guide you could download and use on your smartphone or tablet. It's a PDF file, so you just download it and save it on your device and it will be with you always.

Here are the links to download your own FOA Guides to Fiber Optic Color Codes
FOA Guide to Fiber Optic Color Codes (print your own version) PDF
FOA Guide to Fiber Optic Color Codes (electronic version for your smartphone, tablet or PC) PDF

And For UTP Cabling
FOA Guide to UTP Cabling Color Codes (print your own version) PDF
FOA Guide to UTP Copper Cabling Color Codes (electronic version) PDF


---
Warning For Techs Doing OSP Restoration
FOA received an inquiry about whether techs working on restoring OSP links should be concerned about eye safety if the link used fiber amplifiers. To answer this question,
we had to do some research on fiber amplifiers

. The short answer is YES, you should be concerned. The long answer is more technical and includes details that every OSP tech needs to know.

See "Fiber Amps And Restoration" in the FOA Newsletter Archives..

---
Try The FOA's Online Loss Budget Calculator
FOA has written many articles about loss budgets, something everyone involved in fiber optics needs to know and needs to know how to calculate. We've created a online Loss Budget Calculator that does the work for you. Just input your cable plant data and it calculates the loss budget. It works on any device, especially smartphones and tablets for field use and even allows printing the results.

Bookmark this page (especially on your smartphone): FOA Loss Budget Calculator Online
---
Worth Reading
Each month we read hundreds of newsletters and online articles. These are the ones we think you will find "worth reading."
FOA has a web page with resources on fiber broadband networks and the IIJA/BEAD funding programs.

Cross Reference Guide to FOA Textbooks, Online Guide and Fiber U


AT&T PR photo from the mid 1970s


The FOA's History
---
Worth Reading (And Watching):

October 2023

Fiber vs Wireless - Are You Kidding? FOA's Jim Hayes in ISE Magazine Of course we need both!

WiFi can 'read' letters through walls - Futurity - Who's secure now?

Energy Dept. Pours Billions Into Power Grids but Warns It's Not Enough - NYTimes -
America's electric grids may need to expand by two-thirds by 2035 to handle future growth in clean energy, the agency said. The nation isn't on track. Also National Transmission Needs Study - US Dept. of Energy Study the NYTimes is based on.

Wildfires, Natural Disasters & Network Resilience by Next Century Cities



September 2023


TIA Fiber Optic Technology Consortium "Standards Explorer" Covers Ethernet, more coming.

Developing a Fiber Workforce Really Does Take A Village - FOA President Jim Hayes' May/June column in ISE magazine looks at the role of manufacturers' training in developing the fiber workforce.


We need more people learning trades. Something is finally being done about it. If you're able to work with your hands, you'll never be out of work. Washington Post Editorial. Statistics show that for every five baby boomers retiring, there's only one person to take their position.


Can Our Industry Develop Fiber Talent?, FOA President Jim Hayes' May/June column, ISE magazine.




The Summer edition of Excavation Safety Magazine is online

Special For High Level Techs And Engineers:

Standards and Testing Photonic ICs

Point to Multipoint Networks at Infinera


From Past FOA Newsletters

Telegeography Submarine Cable Map 2023 - You can also buy copies - Telegeography





CABL® (cabl.com) serves the business needs of the Broadband industry (including traditional cable TV, fiber, telecom and satellite providers) with employment listings, classified ads, discussion forums, and more. A contractor told us it's where they find lots of opportunities for subcontracting.


Do You Believe In Magic? Sufficiently advanced technology is indistinguishable from magic. Jim Hayes's column in March/April ISE Magazine.


The Secret to Future Proofing, by Jim Hayes, FOA President, ISE Magazine

The 45 Year Old Overnight Sensation - article by FOA President Jim Hayes in ISE Magazine (Read the complete Nov/Dec issue of ISE Magazine here.



Fiber optics take the pulse of the planet It's like radar, but with light. Distributed acoustic sensing — DAS — picks up tremors from volcanoes, quaking ice and deep-sea faults, as well as traffic rumbles and whale calls. Knowable Magazine++++++


ESRI has created an ebook on GIS location technology for telecom. Use the link to download the book.

The First Transcontinental Telephone Line began operation on July 29th in 1915 - 3400 miles between New York and San Francisco - required over 100,000 telephone poles! Wonders of World Engineering

Conocimiento Esencial: ¿Por qué la fibra óptica? creado por FiberWizards

Recruiting And Training Today's Fiber Optic Workforce - Learn the fundamentals to recruit and train new fiber optics - by FOA's Jim Hayes in ISE Magazine.

Explosive Fiber Broadband Expansion Drives Need for Fiber Technician Training Programs - Telecompetitor - As fiber sees record-setting deployment levels, the demand for fiber optic technicians is stronger than ever.

Google Video On Their Undersea Cables YouTube Slick but interesting video on how undersea cables are designed, built and used.

Construction Without Disruption - FOA President Jim Hayes' column in ISE Magazine


Fiber Optics Installed By The Lowest Bidder - ISE Magazine - by Jim Hayes, FOA President.


Building Broadband During Component and Worker Shortages - Broadband Communities - Completing broadband builds requires competent fiber optic techs, but training them requires understanding how they learn - by Jim Hayes, FOA President.

---

Worth Reading - Magazines, Websites and Newsletters
CABL® (cabl.com) serves the business needs of the Broadband industry (including traditional cable TV, fiber, telecom and satellite providers) with employment listings, classified ads, discussion forums, and more. A contractor told us it's where they find lots of opportunities for subcontracting.

---
New Fiber Optic Magazine In Spanish
Todo Fibra Optica is a new digital magazine in Spanish for fiber optics in Latin America and South America. Jose Enriquez, editor of
Todo Fibra Optic magazine has many years experience in the fiber optic industry so he knows the industry well. FOA will be working with him to share our extensive technical materials in Spanish.

Read their newsletter here. It is now available online in English and Spanish.


All issues and subscriptions.

Contact:
José Manuel Enriquez Mora, Editor
Todo Fibra Optica LLC
https://todofibraoptica.com/revista-ediciones/
+52 222 302 8224
jose.enriquez@todofibraoptica.com
---

RTI Telecom Magazine from Brazil, in Portuguese. A revista RTI do mês de abril já está disponível online e recomendo a leitura de alguns artigos:



---
1995-2020 - FOA's 25th Anniversary!
As part of celebrating 25 years of serving the fiber optic industry as its primary source of technical information and independent certifying body, FOA thought it appropriate to create a short history of the organization and how it has developed to help the fiber optic industry. We also wanted to recognize the contributions many people have made to the organization over the years that made FOA what it is today.

The FOA history is now archived on the FOA website where you can read it anytime or link to it.
Updated info - dB, total internal reflection and science projects,

---
Worth Reading - News Summary & History - More Past Links Worth Repeating
1983 Video of AT&T's First Test Of A Submarine Cable System From the AT&T Tech Channel archives (worth exploring!)
Richard Epworth's Optical Fiber History from his work at STL from 1966 with Charles Kao.

Communications Systems Grounding Rules: Article 800 provides specific requirements
by
Michael Johnston, NECA Executive Director of Standards and Safety

in EC Magazine
US Broadband Coverage By Service Provider from the FCC

How To Build Rural Broadband, Learning From History
In the August 2021 FOA Newsletter, we published a lengthy article on rural broadband and compared it to rural electrification in America in the last century. Much of the comparison was based on an article written in 1940 by a USDA economist, Robert Beall, called
"Rural Electrification."


If you are interested in or involved in rural broadband, we recommend you read the article "How To Build Rural Broadband, Learning From History" in the
August 2021 FOA Newsletter and read the Beall article also.


Recycling Fiber Optic Cable -
Contact:
Steve Maginnis
LD4Recycle/ CommuniCom Recycling
(Visit website)
sm@LD4Recycle.com
803.371.5436



Sumitomo's Ribbon Splicing Guide - download from one of the leaders in splicing.

"Who Lost Lucent?: The Decline of America's Telecom Equipment Industry"

This is a MUST READ for managers in telecom or any industry!
This long and well-researched and annotated article in American Affairs Journal should be mandatory reading for every high level manager in a telecom company - or any other company for that matter. To summarize the article, today, America has no major telecom equipment company and fears the major suppliers of equipment who are all foreign, especially the Huawei from China. This article explains how America got into this deplorable state.


OFS also has an excellent website and blog of tech articles worth browsing.


IEC 60050 - International Electrotechnical Vocabulary - An extensive dictionary for fiber optics in English and French. Highly technical - this is one definition: "mode - one solution of Maxwell's equations, representing an electromagnetic field in a certain space domain and belonging to a family of independent solutions defined by specified boundary conditions"

If you are interested in restoration - aren't we all? - you should also read this article in dpPro magazine by FOA President Jim Hayes: Damage Protection Requires Looking Overhead As Well As Underground - dpPRO Magazine - about the problems with aerial cables. His previous article for the magazine was New Techniques for Fiber Optic Installation.
The Institute for Local Self-Reliance weekly newsletter has lots of interesting articles and links.

Universal access to broadband is a cornerstone to a strong economy, Achieving universal access will require community partnerships. by Alfreda B. Norman, Sr. VP, Federal Reserve Bank of Dallas

FIBER TO THE FARM: The co-ops that electrified Depression-era farms are now building rural internet. Be sure to check out the high-tech equine installation equipment.

Next Century Cities Newsletter - News from cities around the US including Detroit and New York plus small
Infrastructure Get Some Respect, NY TImes "On Tech" "The magic of the internet requires a lot of very boring stuff behind the scenes. "
DIRT Report On Damage To Utilities
Common Ground Alliance (CGA) annual DIRT report provides a summary and analysis of the events submitted into CGA's Damage Information Reporting Tool (DIRT) for the year 2018. The complete report is available for download here. In addition, there is an interactive dashboard that allows users to filter the data more by factors contributing to damages.


Structured Cabling News - a website and weekly newsletter about cabling.


Fiber Trivia From Corning.
The Future Of Work Is Skills - So Stop Worrying About Degrees -
The reality is the future of work is about skills, not just degrees. (FOA Newsletter Feb 2020)

The job market is hot. So why are half of U.S. grads missing out?

VIAVI Books On Fiber Optic Testing (2 volumes) - They're back!
Besides the FOA reference materials, two JDSU/VIAVI textbooks, Reference Guide to Fiber Optic Testing, Volumes 1 and 2, were used as references for some of the FOA courses and are recommended for instructors and students. The books are available from VIAVI as eBooks and the everyone should download them and recommend them to others.Download yours now. Volume 1. Volume 2. Viavi Books
Ciena's Submarine Cable Handbooks (4 to download)


Guidebook To MPO Testing

OptoTest offers this complete guide to MTP®/MPO testing. In this guide, you will learn all there is to know about the different test methods, equipment options, troubleshooting, and best maintenance practices to ensure that you have the best testing experience

. Go here to download the book.

50th Anniversary of The Development of Low Loss Fibers A history of the development of low loss fiber, a fascinating story by Jeff Hecht on the OSA (Optical Society of America) website.

How OFS Makes Fiber
Interesting YouTube video on how fiber is made. Perhaps a little too much "show biz" but fascinating. If you have ever seen fiber manufacture, look at this video. You will be amazed at how big preforms have become!

The True Cost of Telco Damages (what backhoe fade or target practice can cost)
Rural Electric Cooperatives: Pole Attachment Policies and Issues, June 2019
.
Clearfield-FOA Certification Training
Clearfield is now offering their customers an FOA CERTIFICATION course. This course provides a basic understanding of fiber optic technology, as well as Clearfield product knowledge and how Clearfield's integrated product systems work together in a fiber network.
Substandard Contractors - Fiber Optic Knowledge Doesn't Always Trickle Down (EC Mag)



Training
/ FiberU

News and resources to help you learn more and stay updated.

Learn about the fiber optic/ broadband workforce


Find a listing of all the FOA-Approved schools here.
Free

online self-study programs on many fiber optics and cabling topics are available at Fiber U, FOA's online web-based training website.
Free online training at Fiber U
The FOA has >100 videos on
---
The Types of Work Done By Fiber Techs And How It Affects Training



What is a fiber optic technician? What kinds of work do they do? Those topics were the center of FOA discussions with the US Department of Labor Bureau of Labor Statistics that led to the new job category of "Telecommunications Technician" on the BLS website. The focus of this job category is primarily the installation and operation of the fiber optic cable plant, but one should not forget the cable plant must be designed also as part of a more extensive communications network.

In our discussion with the BLS analysts, we pointed out the various stages of a fiber optic communications network project and how techs with various knowledge and skill sets are needed and involved in every step. Here is how FOA defines these stages of a project and the skills of the techs. This is not unique to FOA; it's what has been traditional at telecom companies forever.

Planning and Design: Once needs for a communications network is established, project managers will be responsible for all the details of the project while experienced fiber techs trained and experienced in fiber optic network design (CFOS/D) will design the cable plant itself. (FOA Guide - Design)

Construction: Aerial cable plants may require installing new poles or doing make-ready on existing poles and messengers. Underground construction requires trenching and installation of ducts. In many cases the actual construction is done by general construction workers, as the construction work in many cases is not unique to fiber optics. Heavy machinery is required for much of the construction work and training is focused on safety as well as operating the machinery. (FOA Guide - Construction)

Fiber Optic Cable Installers: Once the route is prepared, the fiber optic cable can be installed. Aerial cable installation depends on the type of cable. Regular OSP cable, figure 8 cable and ADSS cable requires special hardware and installation techniques so the techs must understand the process appropriate for each cable. (FOA Guide - Installation)

Splicers: Since the beginning, fiber techs have been called "splicers" because that was the original job unique to fiber optics. Construction and cable installation was not very different from earlier copper cables, but splicing was very different. Even today, fiber techs are often called splicers and splicing is a core skill for any fiber tech whether they are joining cables or terminating them. (FOA Guide - Splicing)

Testers: After the fiber optic cable is installed and spliced, it must be tested. Testing goes together with splicing since every splice will be tested, often as soon as it is made so if it needs redoing, it should be done before the splice closure is sealed. (FOA Guide - Testing)

Network Operators: Once the cable plant is built and the communications equipment installed, it needs techs who know how to operate the comms but may only know how to connect new gear or change connections on current gear. These techs should also know how to troubleshoot systems in an outage and either do the restoration themselves or call a tech who can. (FOA Guide - Operation)

These categories merely define the stages of installation of a fiber optic project. Of course there are subsets of these categories and most fiber techs are expected to have skills and jobs that cross into multiple groups, as FOA has defined in the KSAs (knowledge, skills and abilities) for a CFOT.

What an individual worker does differs according to their job. An independent fiber contractor may cover every job except operation and a FTTH subscriber installation tech may only understand installing cables, testing and connecting equipment within the scope of FTTH systems. A construction company may handle the trenching and even pole setting as well as parts of the traditional fiber work.

The FOA defined its role early on to focus on educating and certifying techs in the fiber specific skills: cable installation, splicing, testing and restoration. FOA would like to see more schools get into the construction phase, especially for newer techniques like microtrenching and blowing cable, but these require large outdoor areas for training and large investments in equipment. Most techs who learn these processes now do it with OJT - on-the-job-training - and hopefully get OSHA training for safety.



---
FOA School News

FOA's roster of approved schools is growing as more organizations recognize our expertise in workforce development and our comprehensive support for getting new schools started. FOA has over 25 years experience and nearly 95,000 certified fiber techs (with ~130,000 certifications). As a non-profit organization founded by the industry specifically to develop a competent workforce, FOA provides the consultation, curriculum and contacts to get schools started as a free service to new schools.


Complete listing of FOA Approved Training Organizations





---
Need A Fiber Optic Course Onsite? Invite an FOA School To Come To You

FOA often gets inquiries from an organization that has personnel that needs training in fiber optics. Recent inquiries have included contractors, a manufacturer of high-reliability products using fiber optics and a cable manufacturer. In many cases, where there are several people needing training, FOA can recommend a FOA Approved School and Certified Instructor who will come to their location to teach a class. The advantage is of course the savings in travel costs if the class comes to you, but it also offers the opportunity to customize the course to fit your needs, even use your equipment or work on your components, so the training is more relevant to those taking the class.

Contact FOA to discuss the idea of a custom, on-site class to see if it will better meet your needs.


---
Fiber U On-The-Job Training (OJT) Program
The FOA Fiber U OJT program for novices combines online study at Fiber U with OJT with mentoring by experienced co-workers and their supervisor to help new
employees

develop into FOA-certified technicians in only one year.
The
FOA Fiber U "OJT-To-Cert" program includes both fiber optics and premises cabling (copper, fiber & wireless), so it covers techs working in both outside plant and premises jobs.
Like other FOA programs, the OJT-To-Cert program is free. If you and/or your company is interested in the FOA OJT-To-Cert program, contact FOA.
To explain how OJT works and FOA's OJT-To-Cert program, FOA created a short video: Lecture 62: On The Job Training For Fiber Optics Using Fiber U

---

FOA Direct Certification Program For Experienced Fiber Optic Techs

Experience Plus Online Study At Fiber U = FOA Certification
Experienced fiber optic technicians can become FOA Certified using their experience in fiber optics and study for the FOA certification exams online at Fiber U.
Thousands of industry professionals have applied to the FOA directly for certification without the need for classroom training, based on their knowledge and skills developed working the field. Since FOA certifications are based on KSAs (knowledge, skills and abilities), current techs can show the skills and abilities required through their field experience. FOA provides free online self-study
courses at Fiber U
for the knowledge part to prepare you for FOA certification exams which you can also take online.

If you are an experienced field tech interested in certification, and FOA is the internationally recognized certifying body for fiber optics, you can find out more about the FOA Direct Certification Program here.

If you are already a CFOT, FOA also offers many specialist certifications you can obtain based on your experience as a field tech. See what's available at
Fiber U.

---

Fiber U "Basic Fiber Optics" Online Self-Study Course Now In Spanish
El curso de autoaprendizaje en línea "Fibra óptica básica" de Fiber U ahora en español
El sitio de aprendizaje en línea de FOA, Fiber U, tiene más de dos docenas de cursos de autoaprendizaje gratuitos sobre fibra óptica y cableado de instalaciones. Como era de esperar, el tema más popular es el curso "Fibra óptica básica", que se utiliza para iniciarse en la fibra óptica y como curso de preparación para realizar el examen de certificación FOA CFOT.
Ahora el curso básico de fibra óptica está disponible en español, utilizando el libro de texto FOA en español, la sección de la Guía en línea en español y la capacidad de YouTube para traducir subtítulos de video al español. El curso funciona exactamente como la versión en inglés con 10 lecciones, cada una con cuestionarios y una opción para tomar un examen de Certificado de finalización.
Para presentar el nuevo curso de español Fiber U, el examen Certificate of Completion es gratuito, así que dígaselo a sus contactos.

Curso Básico de Fibra Óptica de Fibra U en español.


New Fiber U Course: Fiber Characterization
FOA has added a new course at Fiber U on Fiber Characterization. Fiber characterization is the process for testing long fiber cable plants for its ability for carrying high speed communications. With so many networks now operating at 100, 200, 400 or even 800 Gb/s, fiber characterization is important, especially on older fiber optic cable plants.The free Fiber U Fiber Characterization course is available in two forms, as a standalone Fiber U fiber Characterization Course with its own Fiber U Certificate of Completion and as a separate Lesson in the Fiber U Fiber Optic Testing course. This course is recommended for those studying for the FOA CFOS/FC Fiber Characterization certification.


Fiber U MiniCourses: Got An Hour Or Less? Learn Something New About Fiber Optics.
FOA has introduced a new type of

Fiber U course, the MiniCourse, a free online course you could take in a short time, perhaps as you ate lunch at your desk or took a coffee break. The topics of these courses should explain what they are about, and these are all very important topics to fiber optic techs.

New Fiber U MiniCourse - Fiber Optic Jargon
There is a new MiniCourse at Fiber U - Fiber Optic Jargon. Jargon is the most important thing you need to learn when you learn about a new technology. This short Fiber U MiniCourse is intended to introduce you to fiber optic jargon and make learning about fiber much easier. It's aimed at novices but is a good refresher for even experienced techs.

Fiber Optics In Communications

Fiber Optic Jargon

How Optical Fiber Works



Fiber Optic Network Restoration



Fiber Optic Connector Identification

Fiber U Color Codes



The Mysterious dB of Fiber Optics



Fiber Optic Cable Bend Radius

Fiber Optic Link Loss And Power Budgets

Fiber Optic Connector Inspection And Cleaning

Fiber Optic Media Conversion

Fiber Optic Cable Midspan Access

Reading An OTDR Trace

Reference Cables For Testing

Fiber Optic Attenuators


The courses have two components, video lectures and readings, that are complementary. As usual there is a self-test to allow you to check your comprehension. As with other Fiber U courses if you desire, you can take a short test for a Fiber U Certificate of Completion that costs only $10.

All these free courses and many more are available at Fiber U.


---


What Fiber Techs Don't Know -

What We Learn From FOA Certification Tests
As FOA moves more testing over to our digital online testing system at ClassMarker, we have access to more data about our testing, including what questions and topics on the tests are answered incorrectly most often. Having this data gives us an opportunity to evaluate the questions and how they are stated, but more importantly it allow us to help our instructors teach the subjects and us to change our curriculum and online courses to emphasize these particular topics. These are some of the topics that we have noticed are answered incorrectly more often in FOA and Fiber U tests.

Most of the questions missed are on testing.

1. OTDRs - particularly what information is in the OTDR trace.

2. The difference between dB and dBm

3. Loss budgets - both the concepts and doing the math

4. Insertion loss testing - single-ended or double ended for testing patchcords or cable plants, how to set 0dB references

5. Units of measure - fiber is measured in microns, wavelengths in nanometers, etc.

At FOA, we're working to add Fiber U MiniCourses on these topics and working with our schools to emphasize these topics in their classes.

If you are going to be taking a FOA certification course or test in the near future, these topics should be on your final exam study list.

What We Learn From Hands On Labs
We learn about students performance in hands-on labs from the feedback of our instructors and our own experiences too. One big problem is the use of hand tools. Growing up today, you learn how to use keyboards, mouses and touch screens, but decades ago, you also learned how to use basic hand tools. This is big enough of a problem that we're considering adding some video lessons on basic hand tools to prepare students for cable prep, termination and splicing that require the use of hand tools.

---


FOA offers free online self-study programs at Fiber U. Many users are preparing for FOA certification programs - taking courses at our schools or using the Direct Certification program. Some of our schools are requiring Fiber U programs as prerequisites for their classroom courses so they can spend more time on hands-on activities.